We are delighted to announce our latest project, a $4.1 billion fertilizer and petrochemical project that we hope will reshape the north-west town of Derby with 1500 direct construction jobs during the project lifecycle, and subsidised power and water for local residents. The Plant will be supported by an onshore large-scale gas project.
The Signatories to the Agreements and Memorandums of Understand (MOUs) signing Ceremony at Crown Perth included:
● Haldor Topsoe which will provide the process license and basic design engineering package;
● Theia Energy signed an MOU with DFPC to provide onshore gas to the project; and
● Shanghai Electric signed an MOU for the design, engineering, procurement and construction of an 100 MW solar power plant which will power Derby residents once the plant is operational.
Prior to the ceremony, an announcement was made by Mohammed Juma, Chairman of ARJ Holding Group LLC UAE confirming that they will be offtaking 100% of production. They will also be majority shareholders.
A further agreement was signed with the Shire of Derby/West Kimberley.
DFPC proposed to develop an Ammonia, Methanol, Urea & Complex fertilizer plant and power station near Derby, in the Kimberley Region, Western Australia under the entity Derby Fertilizer and Petrochemical Complex Pty Ltd (DFPC). This Project to develop in Derby, is proposed to establish a scale of 3,500 MT of Liquid Ammonia / day, 5,000 MT / day grade AA Methanol and with Urea process plant output of Urea of 4,000 MT / day facility in Phase 1. The Second phase expansion will use the  domestic mineral resources of Rock Phosphate & Potash resources in Australia to produce 350,000 tons / year of complex fertilizer and output of Mono / Di Ammonium phosphate of 375,000 tons / year.  
PROJECT HIGHLIGHTS
2 Major projects development – in Upstream Production & Processing facility and Downstream Petrochemicals Complex

1500 jobs during Construction and 500 jobs for Operations for next 25 years

Once Built, will be the World's Largest Plant of this kind

Regional and social infrastructure enhancement

Both Upstream & Downstream Projects revenue of USD1.5 Billion a year for next 25 years

SynCOR plus integrates (future) seamlessly with Renewables, inc. Hydrogen and oxygen from electrolysis of water

FEED and BEDP in execution in parallel

Reduced Carbon footprint, Most of the CO2 produced in the Ammonia process is absorbed in Urea production.

Opportunities for domestic mining industries with Domestic consumption of the resources, such as Rock Phosphate, Potash

Develop local logistics, light industrial area, support industries development, thereby benefiting the local community.

The large production volume makes the project highly economical scale thus competitive edge to the global market

Local secondary industrial development & synergies

Revenues to Western Australian Government
ADVANTAGES IN KIMBERLY REGION
This project offers improved income opportunities. Economic growth means an increase in real GDP – an increase in the value of national output, income and expenditure.
Economic growth enables consumers to consume more goods and services and enjoy better standards of living. During Construction and operation stage, creates potential job for the locals and which lower unemployment in the state. With higher output and positive economic growth, firms tend to employ more workers creating more employment.
WA Government is directly benefited with higher tax revenues, during construction, as well as operation stages and there is less need to spend money on benefits such as unemployment benefit. Economic growth also plays a role in reducing debt to GDP ratios.
The economic growth leads to higher tax revenues and this enables the WA government can spend more on public services, such as health care and education etc. This can enable higher living standards, such as increased life expectancy.
Increased research and development. High economic growth leads to increased profitability for firms, enabling more spending on research and development. Also, sustained economic growth increases confidence and encourages firms to take risks and innovate.
Introducing Derby Fertilizers
Process licensor selected as Haldor Topsoe for Ammonia, Methanol Co Production Plant and for Urea Process licensor need to be finalised with Major Licensors.
SynCOR plus includes, with single front end to produce syn gas along with an air separation unit integrates (future) seamlessly with renewables, inc. Hydrogen and oxygen from electrolysis of water

Low capital and operating cost Petrochemical complex with latest Best available Technology

The large production volume makes the project highly economical scale thus competitive edge to the global market.

This project will provide 1500 employment opportunities during construction and 500 to 600 direct and indirect employment opportunities during Operation of the plant for  the 25 year design life.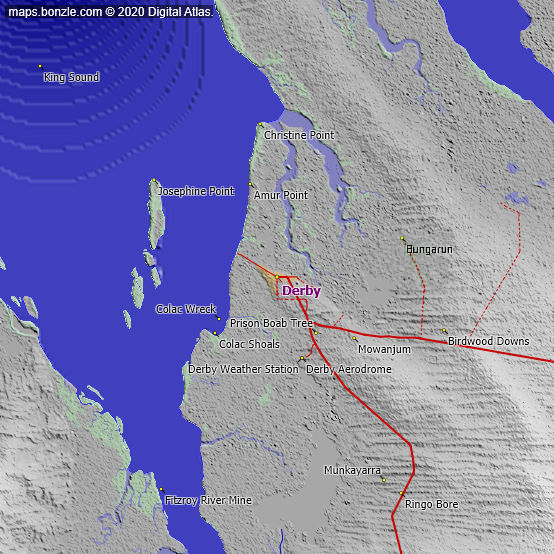 Ammonia, Methanol, Urea & Complex Fertilizer Process
A project proposed with Haldor Topsoe A/S process technology for a natural gas based ammonia/methanol, with the performance metrics and overall cost benefit from the SynCOR Plus process layout in comparison to Single front end with two standalone chemical facilities.
3500 NH3 + 5000 MeOH production plan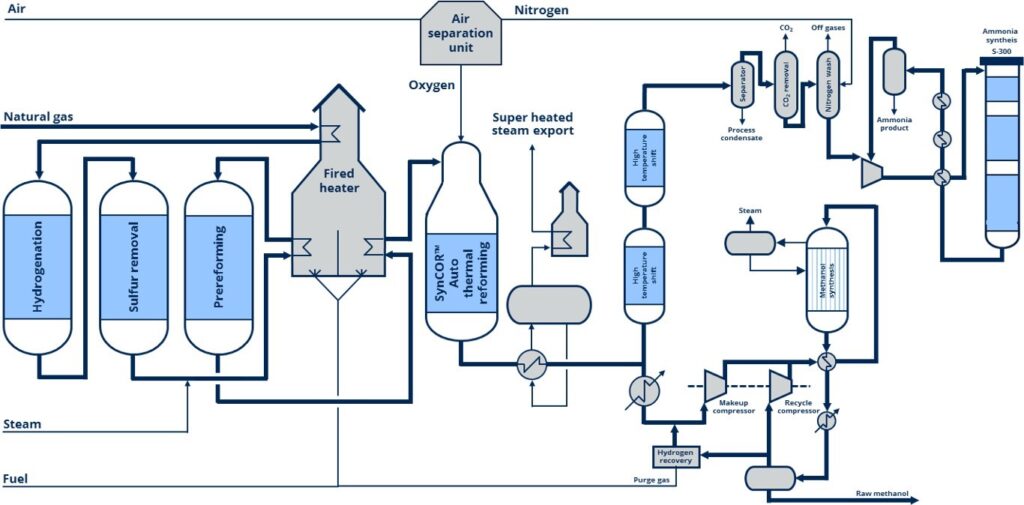 The SynCORtm Plus process involves with one common syngas gas generation unit based on oxygen fired Autothermal Reforming Technology (SynCORtm). The SynCORtm unit will generate the required synthesis gas for the ammonia line and methanol line simultaneously without the use of a tubular reformer. The process synergizes the full output of an Air Separation Unit (ASU) producing both oxygen for the SynCORtm unit, and Nitrogen for the ammonia synthesis.
An air separation plant separates atmospheric air into its primary components, typically nitrogen and oxygen, and sometimes also argon and other rare inert gases.
To enable air to be separated into its constituents by means of rectification – the actual separation process – a large part of the air volume used must be liquefied.
A gas can only be transformed into a liquid state at temperature and pressure conditions below those of its critical point
Air Separation Plant – A simplified Flow diagram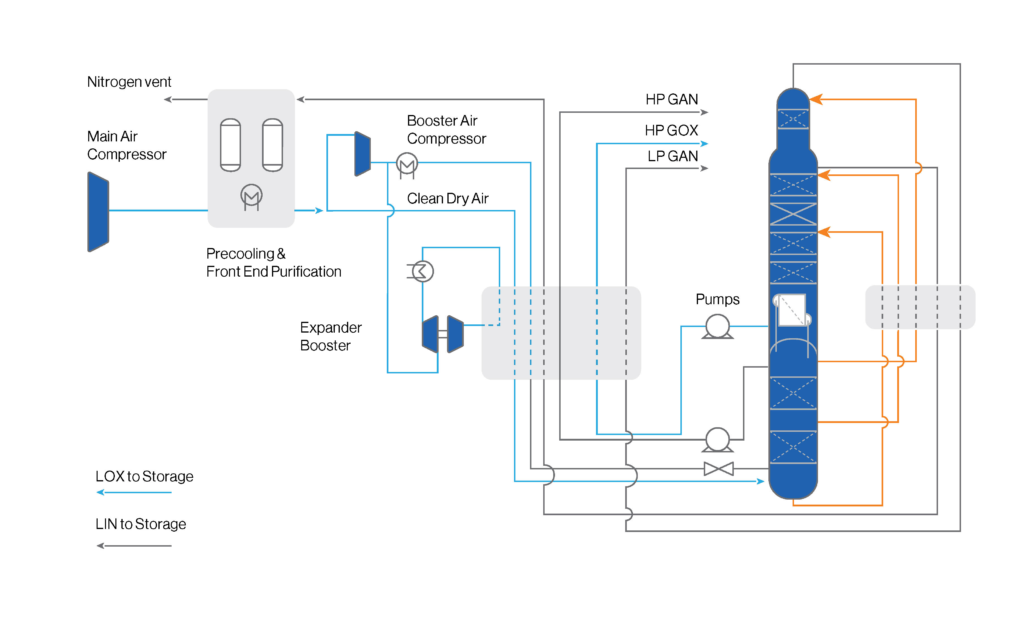 The commercial synthesis of urea involves the combination of ammonia and carbon dioxide at high pressure to form ammonium carbamate which is subsequently dehydrated by the application of heat to form urea and water and prilled to granules as solid product.
The expansion phase covers Complex fertilizer manufacturing, which is a value added product and which needs extensive marketing effort with the farmers and service centers across the Market areas.
Grades with no P2O5 or no K2O are also included in the "NPK" product range but they are normally named NP and NK fertilizers. These types of fertilizers can normally be produced in NPK plants and emission levels will typically be within the limits valid for NPK grades.
Combined types such as Mono- Ammonium Phosphate (MAP), Di-Ammonium Phosphate (DAP) are well-defined products made using well-defined processes.
Compound or complex fertilizers such as NPK, are more difficult to define as there is an infinite number of N/P/K-ratios and the processes applied in their production are numerous.
The product name "NPK" is normally followed by three numbers to indicate the percent of N, P2O5 and K2O which the product contains, e.g. 24–6–12 indicates that this particular grade contains 24% N (nitrogen compounds), 6% P2O5 (phosphorus compounds) and 12% K2O (potassium compounds). In addition, the fertilizer may contain magnesium, boron, sulphur, micro-nutrients, etc. The typical content of nutrients (N + P2O5 + K2O) will normally be in the range of 40-60%.
The plant is to be designed and constructed, using maximum modularization of facilities.
Modularization by Process system is the latest concept for Process plants and has many advantages. Modules are typically based on the broad areas to be covered from Process design and or the plants Commissioning priorities as per the Client's requirements.

Modular Process Systems provides turnkey process skids and systems by following proven methods used from concept to commissioning. Each system to build begins as our client's idea, and must be carefully integrated to achieve the client's goals, without exceeding their budget.
A modular approach to the process system means a shorter project completion time by allowing site civil and facilities construction to occur simultaneously alongside process skid construction.  Having a modular plant design means that the system will be built indoors, under ideal shop conditions, while necessary site civil and facilities engineering is completed.  This ultimately leads to a better build quality and faster completion times.
Jobs & Economic Development
DFPC shall encourage Onsite Trades development training and intake of Locals for Permanent Employment

Permanent employee shall have entitlement to all benefits provided by the company, such as Housing, Local community center, develop sports and recreation center
To develop local infrastructure and airport expansion, Port / Jetty development for Product export & common user Port access etc, promoting synergies and boosting other related downstream industries which will encourage develop the whole Kimberley Region as an Industrialized area
Commitment to the Local Content
DFPC shall develop a Local Industry Development Plan (LIDP) for this Project which shall be in line with the requirements of the WA Gov policy. A mandated local content targets are set for capex, operational phases and the use of Australian mineral resources and products (where applicable to the project).
The LIDP will outline a more detailed Plan and reporting mechanism. In addition to that, it will set a plan for early identification of opportunities for Australian industry and Participation Plan the effective transfer of information on these opportunities to potential Australian Suppliers.
The proposed plan will:
 Identify the type of documentation or other form of proof that will be produced to demonstrate implementation of the actions and achievement of the intended outcomes

Outline a communication strategy for the effective transfer of information on opportunities to Australian industry along subcontracting chains

Describe strategies to incorporate Australian industry through all tiers of the supply chain and in all stages of the Project i.e. through design, procurement, construction, operation and whole-of-life support

Describe opportunities for Australian industry to supply key components of functional units

Describe opportunities for longer-term participation by Australian industry on a commercial basis

Describe the procedures and resources to implement these strategies
Under this policy DFPC and its Suppliers will use reasonable endeavours to optimise use of Australian contractors, Suppliers, goods and services. In support of this policy, DFPC is committed to providing 'full', 'fair' and 'reasonable' opportunity for capable Australian industry to participate in the procurement of goods, equipment and services to the Project.
This policy applies to all DFPC procurement activities and its Suppliers engaged directly or indirectly. It also applies to the Sub-suppliers supplying goods or services, on behalf of a Supplier, to the Project.
The Local Content objectives and obligations established in any DFPC Contract or Purchase Order must align with this policy document.
An effective Local Content Policy will:
Provide a reliable indicator of wealth retained and capacity developed in Australia as a consequence of the Project

Identify appropriate strategies to contribute to the general well being of the business community and broader society who authorise our entitlement to operate

Address government and local expectations leading to a more stable and cohesive operating environment
As the majority of jobs are created indirectly, with significant amounts of equipment and services supplied by Sub-suppliers, control measures over Suppliers are necessary to achieve Local Content policy objectives.
Environment & Sustainability
The process integrates seamlessly with renewables, inc. Hydrogen and oxygen from electrolysis of water

Natural gas as fuel consumption (for heating) is drastically reduced due to utilization of fired heater

Since natural gas (for heating) is reduced and up to 95% of CO2 emissions can be captured as process gas enabling options for CCS at battery limit or further processing

Low environmental impact – up to 30% lower CO2 emissions, more than 50% lower NOx emissions, up to 50% make-up water savings
As a global company, DFPC is committed to environmental excellence around the world. From ground breaking projects, to research, to activities in local communities, DFPC and its employees are taking action to protect the environment at all levels.
We are working to reduce greenhouse gas (GHG) emissions related to our operations and products and to implement innovative solutions that expand our portfolio to meet the demands of our customers for affordable, reliable and clean supplies of energy.
As we work to reduce GHGs, our collective challenge is to create solutions that protect the environment without undermining the growth of the global economy.
DFPC continues internal research and development and participates in global industry-led projects to reduce both the long-term risk of CO2 geologic storage and the cost of CO2 capture from emissions sources. DFPC also provides technical advise and support for the energy industries across the world for CO2 Capture Project for field trials of surveillance equipment and capture demonstrations.
Green Hydrogen Production
The project shall integrate renewable energy resource about 100 MW solar power to produce Green Hydrogen to integrate with the Ammonia process units which shall be 10% of the Ammonia Production.
Construction Phase Waste Water and Sewage Treatment
The Engineering Report sets out the overall strategy for the provision of sewerage collection, treatment and disposal for the Accommodation Villages. and will comprise:
Gravity sewers, pump stations and rising mains;

A sewage treatment plant (STP) and

A recycled water management system.
All wastewater generated within the Accommodation Villages will be managed at the sewage treatment plant. It is intended that the plant will be staged using a modular design, with capacity brought on-line commensurate with the completion of development stages. The first stage of the plant will be available concurrently with the completion of the Construction Village, if not earlier.
The STP is to be located appropriately and will provide tertiary treatment for all wastewater. The design capacity of the STP will be for 450 equivalent persons, which is the anticipated maximum number of people on site at any one point in time.
All effluent produced by the STP will be Class A+ wastewater. This water will be reused on site for irrigation purposes (including to the sporting fields). A tank with a one day storage capacity will be provided to accommodate irrigation requirements. Excess water to be pumped to the construction area for use in dust suppression.
The Engineering Report sets out a site based stormwater management plan that considers the quantitative and qualitative measures required to ensure the disposal of stormwater does not adversely affect the surrounding environment.
Modelling shall be undertaken in preparing the stormwater management plan has included in the design engineering model.
Derby Fertilizer is an Equal Opportunity Employer and employment selection decisions are based on merit, qualifications, and abilities. DFPC does not discriminate in employment opportunities or practices on the basis of: race, colour, religion, gender, national origin, age, sexual orientation, gender identity, disability, veteran status or any other characteristic protected by country, regional or local law.
Our success comes from our people. As an industry leader with employees worldwide and we have a solid position in the market that reflects our strength and our heritage.
DFPC serves as one of the world's largest and most diverse providers of professional technical services, providing full-spectrum support to industrial, commercial and government clients. With a global network, DFPC is positioned for growth, offering career opportunities worldwide from planning to design to construction to operation.
Our emphasis on safety, growth, and exceeding client expectations starts with solid employee relationships. It all starts with you.
Employees are our greatest asset, so it makes sense to us to offer them a quality benefits package that helps them and their families stay healthy, enjoy time off, provide for their financial future, and allow them opportunities to save money.
Our benefit programs typically include the following:
Retirement benefits

Employee stock purchase plan

Health benefits

Disability benefits

Life and accident insurance

Flexible work schedules

Paid holidays

Paid time off

And much more
Contact for country-specific Key Benefits information. Note that actual benefits may vary
Derby Fertilizer and Petrochemical Complex Pty Ltd

14, Level 11, 125, St George's Terrace
Perth CBD, WA 6000, Australia
Ph: +61 8 9288 4529